Contact Us
Contact us form
Live chat
Tamron T Mount to Canon (EF/EF-S) Camera Mount
Explore new combinations
Combine any Tamron T mount lens with any Canon (EF/EF-S) mount camera body.
Notify when available
We will notify you when it's here!
Something went wrong
Combine any Tamron T mount lens with any Canon (EF/EF-S) mount camera body.
DESCRIPTION
Experiment with new lens combinations and pair any Tamron T mount lens with your Canon (EF/EF-S) mount camera.

Our T-EF Lens Mount Adapter is manual so most automatic functions – aperture, autofocus, AE metering and image stabilization – must be adjusted manually. Exposure settings need to be set manually too.
DELIVERY
Free standard shipping within Canada.
Standard shipping: 3-7 days.
Express shipping: 1-3 days.
Please allow an extra 2 days for regional areas.
RETURNS
30-day returns.
Shop with confidence knowing you can return products within 30 days of purchase.

Sale items are non-refundable unless faulty.
New combinations
Utilise different lenses.
Snug fit
Our consciously designed adapters have no light leakage and a secure connection.
Clever details
Anti-reflection matte black finish.
Lifetime warranty
Quality made to last.
Features
Hardened aluminium
Clever design, durable materials guaranteed for life.
Perfect fit
Designed for a safe, snug fit every time.
Infinity focus
Manual focus through full range to infinity.
Urth by you
Frequently Asked Questions
What is a lens mount adapter?
A lens adapter allows you to attach a different brand of lens to your camera body, letting you use an otherwise incompatible lens with your camera.
How do I find the right lens adapter for my lens and camera?
Find your lens mount and your camera mount.
The easiest way to find and confirm your lens mount is to know the mount of the camera it was used on originally. A quick internet search of the camera model followed by lens mount is a sure way to confirm what lens mount you need. For example if you have an old Nikon lens and you know it was used on a Nikon FM2, you can easily find that the lens has a Nikon F-mount. This is particularly useful for lenses that are made for different mounts i.e Sigma and Tamron bring out the same lens with different mounts including EF, F, E so knowing the camera the lens was used on is a good shortcut.
If you have an old second hand lens and you are unsure of the camera it was made for, take all the known details of the lens and search the web.
Why buy a lens mount adapter?
To utilise quality old lenses with your new camera, or match a different make of lens to your camera.
There are countless creative experiments to be explored by mixing different brands of lenses with your camera body. Lens adapters can also help your existing collection of lenses go further with any new cameras you collect. So you can invest in a new camera and make the most of your favourite lenses.
How do you use a lens mount adapter?
Find a detailed how to for each filter at the base of its product page.
In summary, attach your lens to the adapter, and then your adapter to your camera body. Put all settings on your lens and camera into manual mode, and select 'shoot without lens' in your camera settings.
When should I use a lens mount adapter?
Whenever you want to use a different make of lens with your camera body.
Because you need to use your camera in full manual mode, you may need to familiarise yourself with this before shooting. You'll soon work out which lenses you enjoy using with your camera. Analogue lenses can provide professional quality glass at a fraction of the cost of modern lenses so lens adapters can help you shoot with better lenses for less.

Can I change my aperture when using this lens mount adapter?
Only if your lens has a manual aperture control ring.
If you use a lens with electronic aperture and no manual control ring, because this lens mount adapter is fully manual, your aperture would remain at its maximum aperture (lowest f-stop).
"Very good quality for this price and fast delivery." Juliet bought our Tamron T Mount to Canon (EF/EF-S) Camera Mount
Your Cart (0)
Your cart is currently empty.
You might also like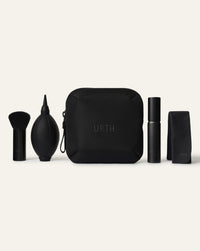 Glass Cleaning Kit
A consciously designed Glass Cleaning Kit gives you all the tools